Thanks for signing up! This page will walk you through how to setup your account to get the most out of Locally, and hopefully answer any questions you have. If not, please don't hesitate to ping us: [email protected]
Getting Started
Add your affiliate tags – head to the "Affiliates" page and add your Amazon Tag IDs. You can always add more later, but you'll want any ones you have already saved so you can make Amazon links.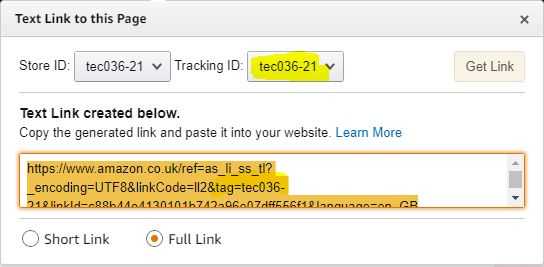 You can find your tag ID from Amazon, including from "SiteStripe". The link shows "tag=", whatever comes after that, before the next "&" is your tag and what you need to add.
Set your Global Fallback Country – also on the "Affiliates" page, you can pick what country you want us to default to when someone who isn't from a region you've added visits one of your links. You can change this on a per link basis, this is just what we will put as default. If you do use us for Amazon, it's best if you pick your default as a supported Amazon country (basically the first 15 on the list!).
Make a link – when making an Amazon link, you can either enter the ASIN (it looks something like this: "B07ZZW3KJY") or the full URL for the product and we will find the ASIN for you. You can edit these later too. Also, add a relevant product name as if you don't put an ASIN in for a region you do have an affiliate tag saved for, we will serve a search query instead helping convert more clicks into sales.
FAQ & Explanations
Free Trial – The free trial we offer is for your first month of using the platform. We don't charge you anything for the first month. After the trial has expired, you'll be billed just £2, then the regular billing including usage based reporting will begin from then. If you would like to end your trial, please email us at [email protected]. If you do choose to end your trial, we will delete your account entirely, including any saved links, analytics and billing info permanently.
Smart Redirect – when someone who isn't from a region you have an affiliate tag saved for clicks on one of you Amazon links, we intelligently redirect them based on where they are from. If they are in Poland, we will take them to Amazon.de, Ireland to Amazon.co.uk, and plenty more.
Fallback Search Term – For Amazon links, whatever you put as the Product Name doubles as both it's searchable name in the Link List, and the term we will return if you haven't entered an ASIN for a region you have an affiliate tag saved for. For example, if you can't find a product listed in the USA but you can for the UK, just put the name in and if someone from the UK visits that link, we will take them to the product page, but if they are from the USA we will serve a search page with the product name instead.
Data Export – You can export all the ASINs and product names you've entered, if you ever want to migrate away from us, or as a personal backup. We provide a CSV with the product name, ASIN and country.